Powercoil- Hangsell Full Display Bay Merchandiser
Part number: 3500-FD1
| | |
| --- | --- |
| Part No. | 3500-FD1 |
| Barcode | |
| Merchandiser Type | Powercoil- Hangsell Full Display Bay Merchandiser |
| Packaging Type | Various |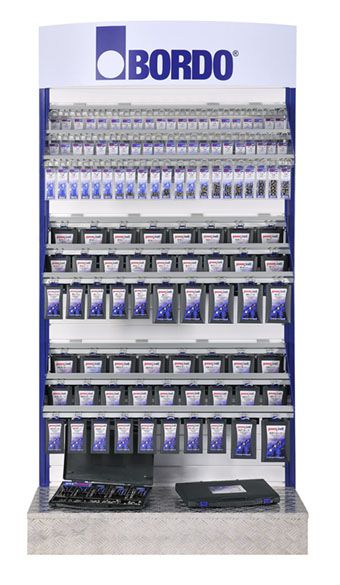 POWERCOIL MERCHANDISER
PowerCoil Wire Thread Inserts strengthen tapped threads in light weight parent materials such as aluminium. They are helically wound inserts made from high quality chromium nickel stainless steel with a diamond shaped cross section.
PowerCoil inserts are used in OEM applications in a wide range of industry sectors including aerospace, automotive, military and electronics. They are inexpensive when compared to other inserts and simple to install, yet are extremely tough, wear resistant and corrosion resistant.
Most importantly, PowerCoil inserts allow the stress loading from the bolt or similar threaded part to be more evenly distributed over the threads in the parent material.
In addition to PowerCoil standard 'free running' inserts, 'screw locking' inserts are also available. These inserts have polygonal grip coils within the length of the insert which exert radial pressure on the male thread, thereby gripping the bolt and preventing it from loosening under vibration or impact.
In addition to stainless steel, PowerCoil inserts can be made from Phosphor Bronze, Inconel or Nimonic 90 depending on the application. They can also be supplied with different surface finishes and coatings including cadmium, siver and zinc plating and dry film lubricant.
A complete range of Screw Thread Insert (STI) taps are available as well as low, medium and high volume installation tools and a wide range of individual and workshop repair kits.